Tujereng Fairview Estate is a new residential development on a top location and offers a total of 32 plots of which 24 plots measuring 460 m2 each and 8 plots of 552 m2. On top of this, you can choose out of 3 unique home designs each offering a quality living experience.
The estate is easily accessible from the main road and 5 minutes drive to the beach. Offers include access roads, water and electricity facilities, solar street lighting and 24/7 gated security.
Once you have chosen your plot, house design and have signed the sales and construction agreement the construction of your house will start. We handle an average construction period of 8 to 10 months after which you receive the keys to your brand new dream home.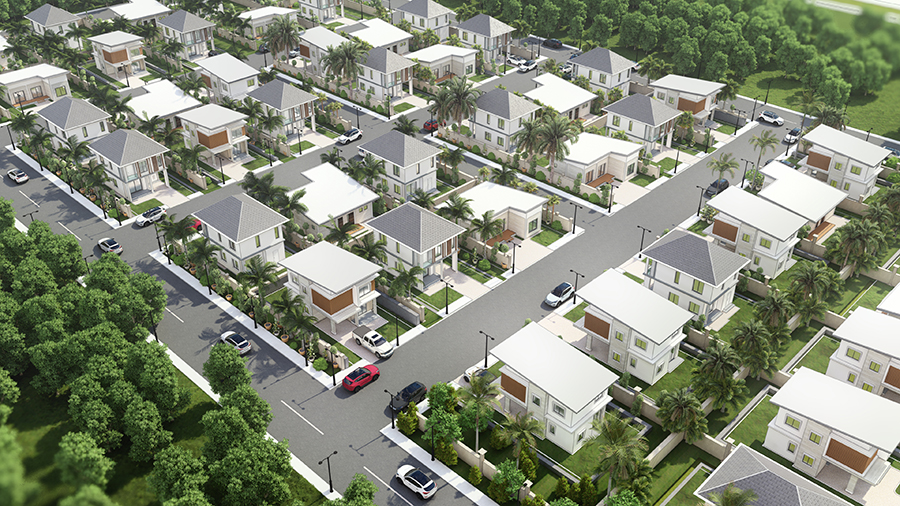 5% EARLY BIRD DISCOUNT
CALL +220 2696613 FOR TERMS & CONDITIONS
Type FairView 3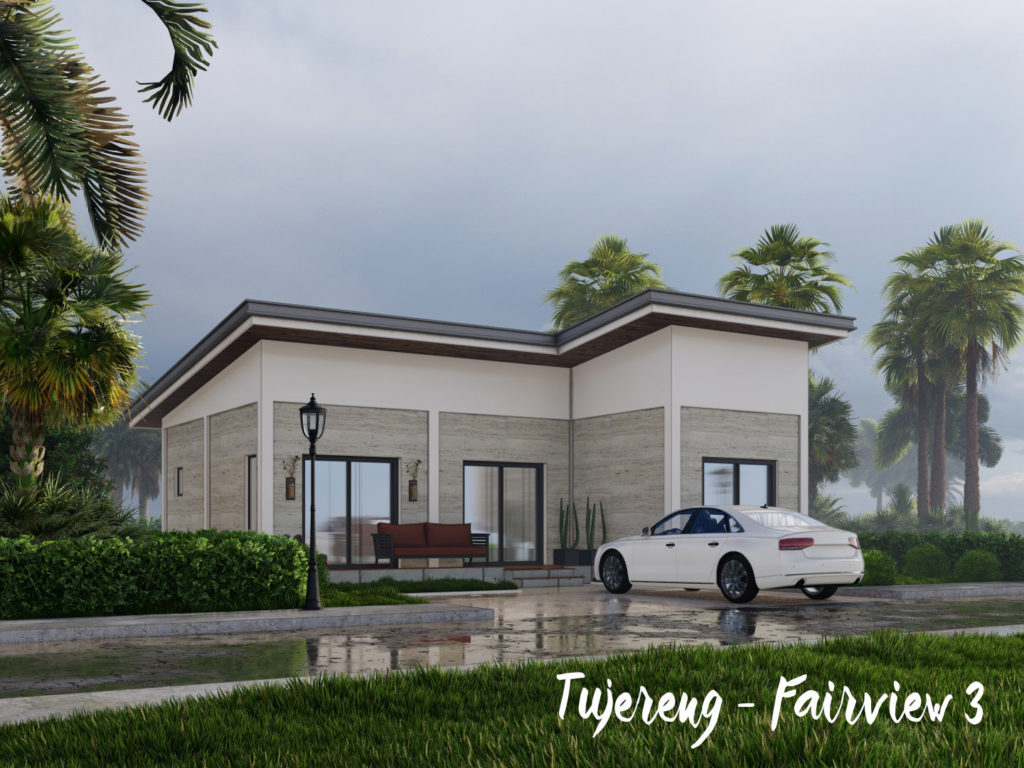 FAIRVIEW 3
PRICE ON 460 M2 PLOT – $94,300
PRICE ON 550 M2 PLOT – $98,300
5% EARLY BIRD DISCOUNT
CALL +220 2696613 FOR TERMS & CONDITIONS
Beautiful quality build bungalow offering 81 m2 of floor area with 2 bed- and 2 bathrooms on a 460 m2 or 550 m2 plot of land.
INTERIOR
We start with the car parking in front of the house followed by a nice covered terrace entrance in front of the house.
Once we enter the front door, you enter the living of this nice and modern house. The compact kitchen is sided by the dining area and has a door that gives access to the garden. A storage room is placed next to the kitchen.
EXTERIOR
Similarly, to the roof border colour, we choose a dark and light colour combination together with a big glass door and window to get the house look beautiful and modern.
ROOF
Finally, the shed roof type (sloped) is made from Decra metal roofing that covers above a Gypsum board ceiling. This will give the house a modern and stand-out look.

SUMMARY
Car Parking and garden
Living room
Dining room
Kitchen (imported)
2 bedrooms
2 bathroom (1 en-suite)
Storeroom
Washing room (outside access)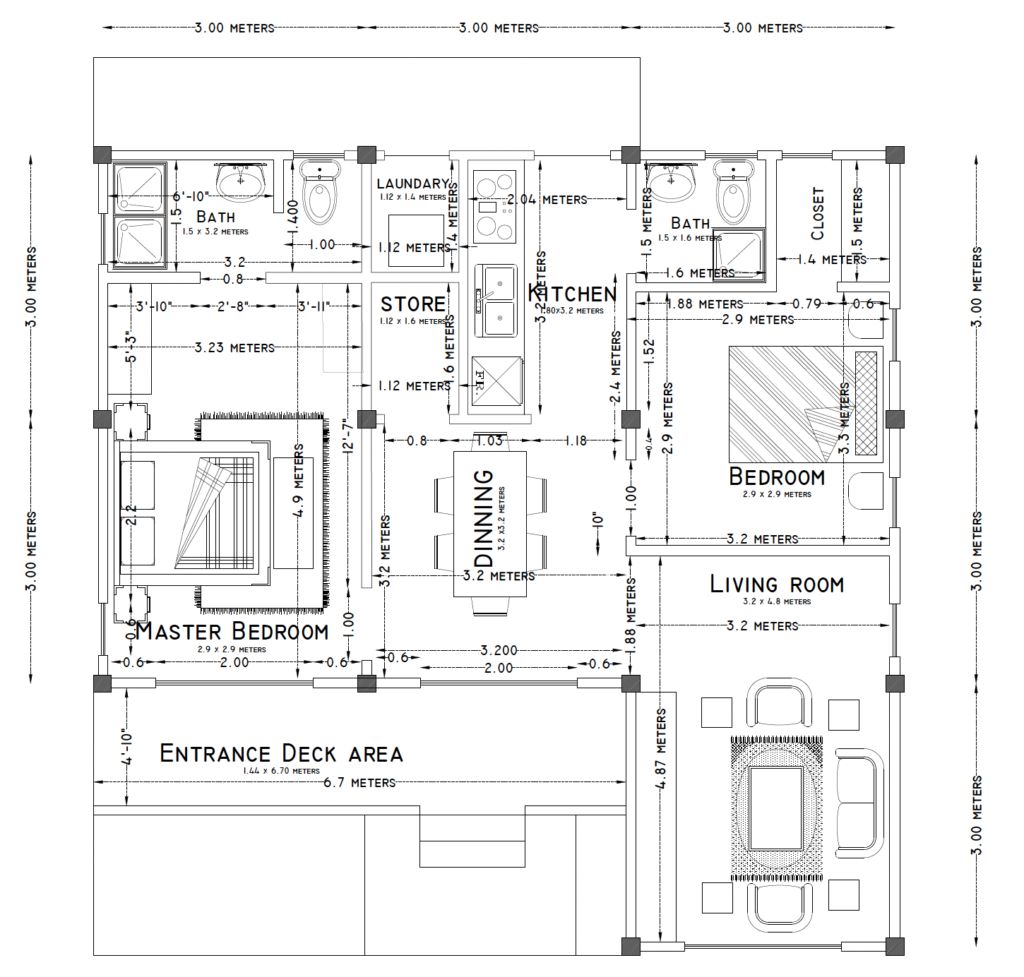 IMPORTANT:
All prices mentioned are indicative and subject to changes. Final costs will be determined on actual costs of materials, labour and location of construction at the time of signing construction agreement.
* Full and specified details such as floor plan, construction drawings, interior and exterior material details and final pricing will be incorporated in the Building Contract.
* Specifications and prices on our website for all HomeLand designs can be subject to changes.
* Changes to floorplan/design can be made at additional costs.
PAYMENT PLAN
– 40% downpayment on signing the Building Agreement
– 25% upon completion of the foundation and cesspit
– 25% upon completion of the main structure
– 10% four weeks before handing over the keys to your new home

CONSTRUCTION PERIOD
The moment you sign the Building Agreement we start with the construction of your new home. The estimated time for completion depends on the house plan you have chosen but on average we follow a construction period from start to finish estimated 8 months for Fairview 3 and 12 months for Fairview 1 and 2*.

* Constraints like site or extreme weather conditions (rainy season) can extend the construction time.
FOR MORE INFORMATION CONTACT US AT
+220 7107601 | 7949038 | 2696613